Moving company Terenure – moving specialists
At ManVan we pride ourseselves to have simple pricing system for your move, like most of the companies charge you per hour, not giving final prices, and during moving process tend to strech the time, we always charge per load – one fixed prices and no hidden costs. We always come prepared and ready to do nice and quick moving job. Being small family company you get to talk with the same person who's gonna move you on a day so no talking with hundred different people and missing out on any moving information, everything is clear and simple.
How we move at Moving company Terenure?
Always use special moving blakets
Moving trolleys
Special piano trolleys for safe piano move
Straps to secure your belongings
Clean vans to load your items
Ramps to load heavy items
Special piano carry straps
Transportation at Moving company Terenure
We offer two types of moving transportation: if you you need to move single item like bed or coach or you moving from small apartment room or house we have your typical 50 square foot van (Ford Transit), fully equiped with special moving blankets, moving troleys and straps to secure your belongings and move your items safe and sound within Dublin or Ireland.
Luton box body van moving
If you moving from bigger house or moving apartment we can also offer Luton box body small truck, to make your moving easier and take all your items in one go, this way saving time and money. Our Luton box body is double size the normal van and can fit 95 square foot. Luton box body also comes equiped with moving blankets, straps and troleys. The biggest advantage of Luton box body tale lift to make loading heavier items easier. If needed we alsways have extra heavy duty ramp in a van to help us move pianos or heavy items easier and safe considering steps in apartments or houses. So no lifting and risking to damage you precious items.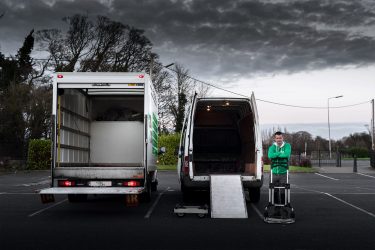 Why Choose Moving company Terenure?
Service orientated to bring customer satisfaction
Reliable, friendly and punctual removal services
Safe and secure Door to Door Service
Friendly and helpful staff
Fixed price rates
Provide 24 hours a day services
Available on short notice or emergency house moving
How we work at Moving company Terenure?
Besides special moving blankets, to cover your items during transportation, trolleys to handle heavy iteams, and straps to secure everything during transportation, we also have special cary straps for really heavy items that has no where to grip, helping us to deal with difficult moving siuations like carry some big wardrobe few floor up, making sure that your item will be safe as well as walls and floors of your house. Before handeling heavy items that needs to go upstairs, we always inspect stairs and corners to see best way to carry up, we remove any pictures from the walls as extra protection, and of course after the move we put things back as we like to leave house as it was before.
Our promise at Moving company Terenure
Always be on time
Fast service
Don't waste time during the move
We come not to play, but do the job
No coffee brakes
Our biggest promise to our moving clients is to be fast and always on time. We operate in south Dublin as well as in north Dublin or any part of Dublin and in whole Ireland namely Cork, Limerick, Belfast, Galway, Waterford, and Kilkenny. Our attention to detail combined with highly competitive rates offers an efficient professional service.
How do we achieve this?
We have the know-how and experience to meet all your Moving company Terenure moving needs. Whatever your situation, we offer a comprehensive moving services – Moving company Terenure As we are small moving company the person you talk on the phone the same person will do the moving job for you making it easy and stress free avoiding any misunderstanding you get with big companies. ManVan offers a wide range of Moving services. Depending on the specific details of your move, your project can be customized completely with many options.
Moving company Terenure- moving specialists
We pride ourselves on the level of care that we take with your belongings while moving. We always use special heavy duty moving blankets to protect your belongings as well as straps ans trolleys to make job as smooth and fast as it can be.
We cover All Dublin :  Dublin 1, Dublin 2, Dublin 3, Dublin 4, Dublin 5, Dublin 6, Dublin 6W, Dublin 7, Dublin 8, Dublin 9, Dublin 10, Dublin 11, Dublin 12, Dublin 13, Dublin 14, Dublin 15, Dublin 16, Dublin 18, Dublin 20, Dublin 22, Dublin 24.