House removals Dundrum your local mover
House Removals Dundrum since 2010. At ManVan we pride ourselves with huge experience of moving houses as well as taking care of your belongings during the move. From start to the end of the house move we do our best to safely move your belonging from point A to point B.
Why work with House removal Dundrum ?
Always use special moving blankets
Moving trolleys
Special piano trolleys for safe piano move
Straps to secure your belongings
Clean vans to load your items
Ramps to load heavy items
Special piano carry straps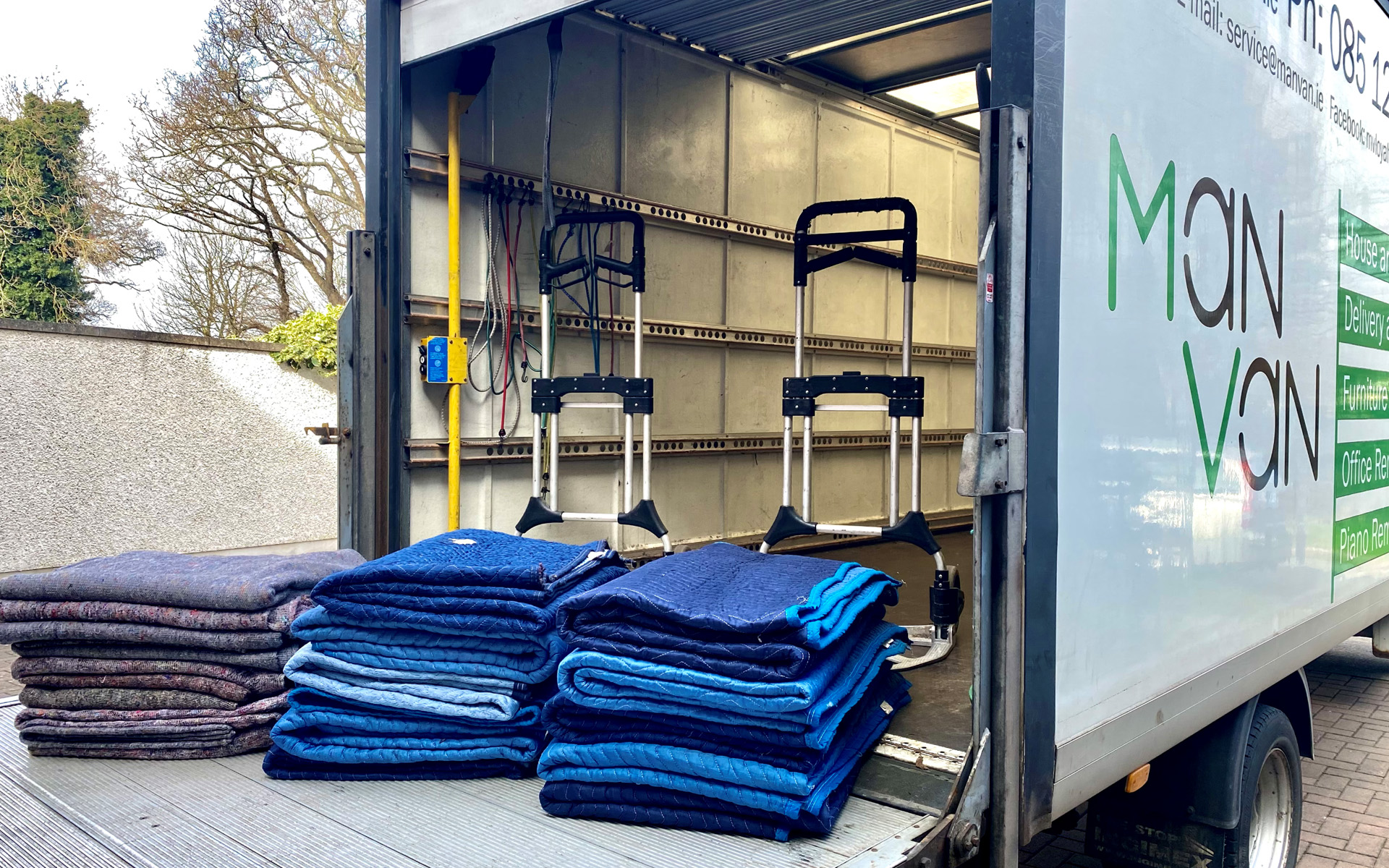 Simple pricing for your House removal Dundrum
We are small house moving company, that's why we try to keep things simple. At ManVan we don't have any complicated pricing strategies like charging one price for first hour, than changing price for second and all after, that might be difficult to understand final price, here at ManVan we charge per one load one simple flat price no hidden cost.
Also when you call us you talk directly with person who is going to move you on a day, so no misunderstanding about your move or missing information or talking with few people just to get simple moving quote.
Moving safety at House removal Dundrum
House moving price is very important for all of us, we all want to get cheapest price, but most of the time while looking for only best price people forget about moving safety, and forget that moving company will have to move their precious things.
At ManVan we always take care of your items while loading, unloading and during the moving process. Working for so many years we know how to lift heavy items while carrying them upstairs with hands or using special moving straps. During the move we always use special heavy duty moving blankets to cover your belongings, as well as straps and trolleys to make house move as safe as possible.
Beside using all necessary moving blankets, trolleys, ramps, straps we always take care of our vans that are clean inside.
We cover All Dublin : Dublin 1, Dublin 2, Dublin 3, Dublin 4, Dublin 5, Dublin 6,
Dublin 6W, Dublin 7, Dublin 8, Dublin 9, Dublin 10, Dublin 11, Dublin 12, Dublin 13,
Dublin 14, Dublin 15, Dublin 16, Dublin 18, Dublin 20, Dublin 22, Dublin 24.
Please check other moving service we do:
The packaging stage is one of the longest and hardest aspects of any move. Plastic boxes are an important element in conquering your packaging. This is the easiest and safest way to transport your property from A to B.
Call ManVan- the moving company with an unrivaled reputation for reliability, timeliness and careful attention to detail for a stress- free single item delivery at a competitive price. We can deliver everything from a small coach that could be handled by one man with a van to the heavy piano that needs a few strong professionals and a moving truck.
Moving to another apartment is a stressful event, but we can make your anxiety a smooth move with our knowledge and experience. We are not just man and van, we know our job very well as we open since 2010 we know most of the apartments, and can advice you the best way to move.
Avail affordable moving price and student's moving discounts! We strive to give students an affordable professional move at all times and we are committed to providing students in Dublin with an efficient and cheap move. Our man with a van service is not only affordable but also fast and flexible, so if you are a busy student we can arrange your moving at any given time.
We have many years of experience in the Dublin furniture removals. We are specialized in offering tailor-made moving services to our clients, as every move is different and requires a different approach. At ManVan we not only move your furniture but do it safe and fast and for an affordable price.
Selling an antique table online, sending a desk to your college student or even buying chairs from a local artist market can quickly make delivering equipment a costly problem. It doesn't have to be at ManVan. If you bought some big furniture like coach or bed and don't have proper transport to bring your items home, no problem man and van can help you to deliver your new furniture hassle free from the shop straight to your house or apartment. Our driver will help you schedule a date for the delivery of furniture at your chosen time.
No job is too small or too big. Whatever you are a small company that only relocates a few things or a large company that needs to move the entire office, you can trust the Man van storage removal service we provide for more than nine years. During those years we have moved in and out of all storages in Dublin, so we know our work very well, and can help you with planning your storage removal.
Our guarantee to each customer is to focus on excellent customer service from the first phone call to the completion of your piano move regardless of the difficulty. Our expertly trained piano moving teams will take care of your piano with each moving using special equipment (special piano moving trolleys, ramps, blankets) to make job safe and fast. We are moving pianos since 2010, and have done some difficult piano moves in our time, like moving a piano up to 4th floor with no lift or delivering 500 kg upright piano to the basement.
Moving office premises is easy with ManVan. When we move your office, we understand that a lot needs to be considered and planned. We moving office since 2010 and we have all the needed tools to make your office move safe and sound, starting from moving a table or even big heavy printers. We try our best to be not only your man with a van but also your reliable moving partner and help to make your office move as easy as it can be. If you need just man and van or all moving team we are ready to help.
[maxbutton id="1″] [maxbutton id="2″] [maxbutton id="3″]
House Removal Dundrum